How to make your customers' waiting time less dull?
A simple guide to enlivening your visitors while they wait for their turn.
Organizations must manage their relationship with customers to achieve their full loyalty and service experience appreciation.
We idealized a new powerful tool that will lead to a continuous cycle of improvement, a smart queueing system based on IoT & Cloud technologies.
Here you will be able to see how you can revitalize your Qube experience, by providing contactless technologies and digital tickets, hence promoting virtual queueing, by creating a safe environment for visitors.
Don't make your customers leave your store feeling indifferent!
For those that choose to wait indoors, you'll want to do everything you can to make their experience even better, right? We suggest you make it entertaining because the worst reaction isn't hatred or disdain, it's indifference. We have heard so many times "Bad advertising is still advertising", but it is always preferable to be good advertising than the other way around.
Don't be boring, and people will talk about it!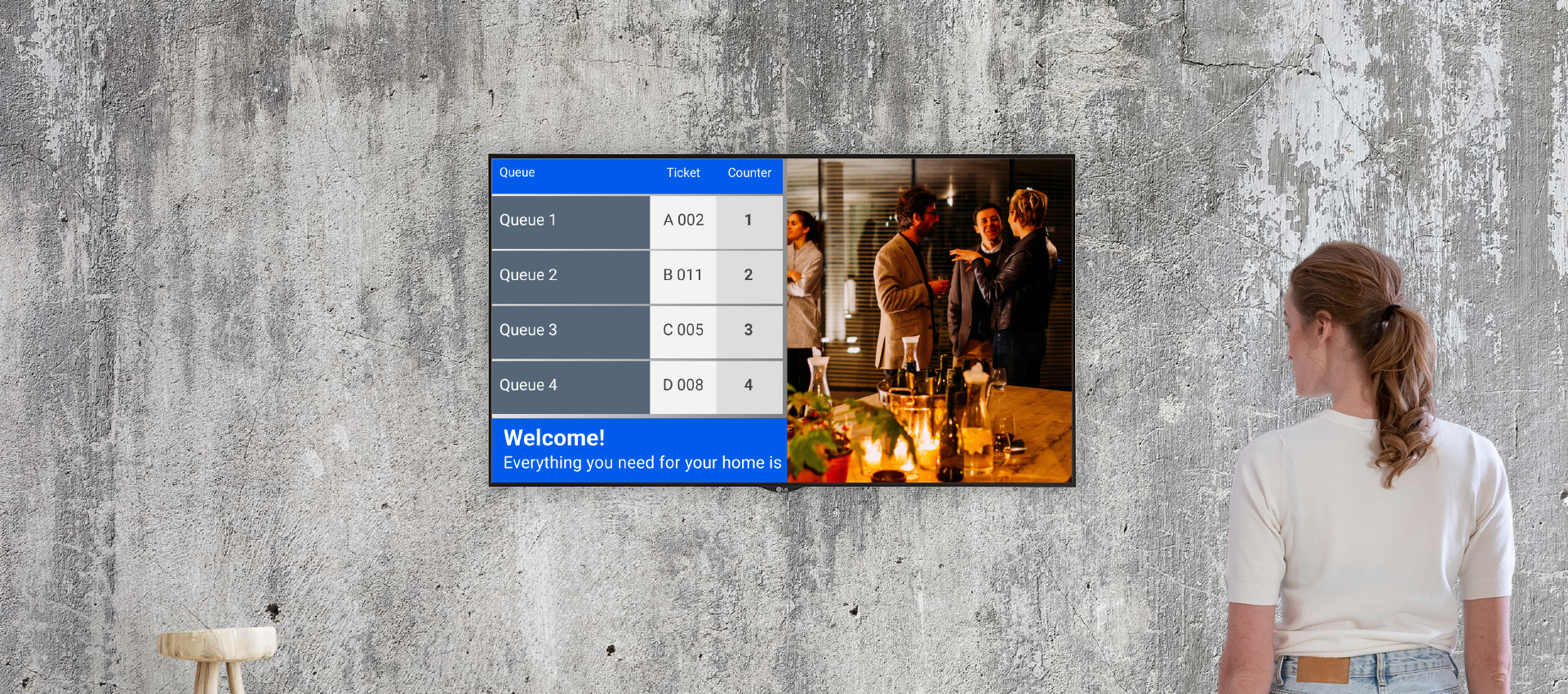 Other than the Queue Management System, take full advantage of what Qube has to offer, by having Players running important information.
You may need a queueing system, but that doesn't mean that is all you will ever use it for. Explore Qube to its fullest, add a player and make your business more attractive:
Customize your content and put emphasis on your branding: Qube allows you to create your own layout, you can choose how to display the Queue Status, your media content, your logo or even if you want to have a feed with special messages or even up-to-date news!
By customizing your player layout, making it functional and appealing, you will also highlight your brand image and communication skills.
Communicate dedicated content to promote your products and services: If you are displaying maybe one or two pictures, you might just hand out flyers and save yourself the trouble. By regularly adding and changing your content the customers will likely notice your products or promotions or any important information you'd like to share.
Imagine a customer that went to buy a specific product, but he or she never browsed your store: now, watching the content displayed, it's possible to find something he or she likes. Next time, or even there, they may buy it!
Although remember to always update your content!
Inform and Entertain: If not with videos or pictures, you can always use your favourite news channel and display the latest news on your TV! This will work just fine for those customers who always like to be up-to-date.
Integrate with your favourite Digital Signage Software: This is entirely optional, but if you already have digital signage in your store and you don't want to let go of it, that is possible! You can pass music videos, sound, or whatever you want to communicate with your customers. In fact, Qube can be integrated with many platforms, not just Digital Signage.